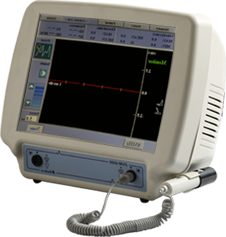 Blood flow assessment during surgery is very crucial. This can be successfully achieved using vascular Doppler. High-frequency sound waves are used to evaluate arterial and venous blood flow, usually in the extremities. These studies can also identify abnormalities in the blood vessels.
Bidirectional Doppler works on the principle of Doppler shift and can identify blood flow in both positive and negative directions, that is, both towards and away from the probe and hence the name bidirectional Doppler.
Based on outphaser technology, bidirectional Doppler separates simultaneous forward and backward flow signals through phase comparison and then passes on the signals through two distinct channels.
Through this method, it is possible to achieve artefact free registration of arterial signals without the superimposition of venous signals and vice versa.
Bidirectional Doppler thus helps in the qualitative assessment of blood flow based on secondary parameters such as shape of the curve, direction of blood flow or diastolic deflection.
Kody Medical Electronics offers several vascular Dopplers and intraoperative probes for different frequencies for use during surgery. Bidop ES100V3, Smartdop 45, Smartdop 30EX, Hadeco Smartdop XT 6 port, Hadeco Smartdop XT 14 port and DVM 4500 are some of the most frequently used bidirectional Dopplers.
Most of these have an LCD of parameters such as Maximum Velocity (cm/s), Average Velocity (cm/s), Diastolic Velocity (cm/s), Systolic to Diastolic Ratio (SD), Resistance Parameter (RP), Pulsatility Index (PI) and Average and Maximum volume (ml/min). These details are key to observing and recording flow characteristics.
Bidop7 and Smartdop 45 come with the extra advantage of colour display, bigger speaker and inbuilt battery.
DVM 4500 finds application in all types of surgeries — neurosurgery, cardiovascular surgery, oral surgery, urology and nephrology, plastic surgery, orthopaedic surgery and digestive tract surgery. It is very useful in aneurysm clipping, bypass surgery, varicocele and AV shunt, transplantation surgeries and determination of PAD and spinal stenosis.
Thus, with probes of the right frequency and dimension, a bidirectional Doppler can help assess and confirm blood flow before and after surgery and help achieve the best possible results for patients.