The TM-2657P is the latest model in the range of freestanding fully automatic blood pressure monitors, whose ground-breaking designs have been well received and have created many new applications, places of use, and markets. The main reasons for the high reputation of the previous models are their fast and accurate measurement, compact profile, ease-of-use, and durability. The new TM-2657P has been superbly styled in Japan, having a slim and compact design with increased printout speed, and offers a diverse selection for connectivity. The TM-2657P helps expand market potential in the various locations and areas in everyday life such as hospitals, medical clinics, health check-ups, corporate wellness, pharmacy services, and fitness centers.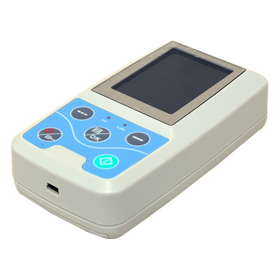 24 HRS AMBULATORY BP MONITOR
ABPM50 is a handhold ambulatory blood pressure monitor, which is designed according to oscillography theory. The device could monitor human body blood pressure up to 24 hours continuously and dynamically, providing accurate basis for the diagnosis. It is applicable for using in hospital, clinic and other medical institutions.
In order to keep pace with never ending demands of customers our company provides excellent quality range of Infrared Medical Thermometer to our reputed customers. This Infrared Thermometer is used to know the local temperature of the skin in that spot and corresponding spot on the other foot. Provided product is strictly inspected on several quality parameters before getting delivered to customers.
Technical specifications :