KODYS FOOT CLINIK SOFTWARE
World's First User Friendly Single Software for all Foot Care Test!!
Kodys Foot Clinik is a comprehensive software solution for Diabetes and Endocrine practice. It enables both individual practitioners and a network of clinics build longer relationships with their patients resulting in vast improvement in the quality of care offered. It assists care providers easily track and monitor in one sight.
Developed collaboratively with clinicians, specialists, information technologists and our existing key customers, the solution has been developed from the ground up with a key focus of meeting the unmet needs of healthcare professionals while minimizing the costs and resources required performing the tests.
By integrating and streamlining your hospital workflow, it allows you to increase patient volume without increasing staff. Integration of all application tasks reduces errors and increases productivity at all levels.
With more accurate capture and reporting of patient data, diagnosed tests can be analysed to avoid duplications, reduce cycle times and maximize the throughput of the clinic or hospital.  All this leads to improvement in the patient care.
We provide a solution for all foot care tests in single screen. Six applications ABI & TBI Doppler, Biothezi VPT, Podo I mat, Podo T map, Online doppler training (USA) and Smart V link comes under  single window.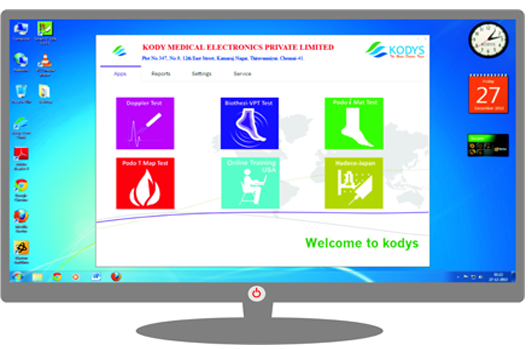 System Required with following configuration